Hi everyone,
Today I want to share a simple way to add in healthy veggies to your diet.  When you add in healthy foods, there will naturally be less room for other unhealthy choices.
As an example, if you increase your intake of water early in the day and keep drinking throughout the day, you will naturally crave less unhealthy drinks such as soda, coffee etc… It is really quite simple, by keeping yourself hydrated with water you will immediately cut down on other liquids because your body is satiated.
Same is true for food.  By adding in more veggies, you will have less room for other foods and you will be doing your body a huge favor.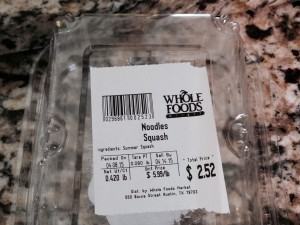 Whole Foods now has spiralized veggies in the fruit and vegetable section.  The spiralized veggies are in the refrigerated section.  I have my own spiralizer and can spiralize with the best of them, but truly this is so much easier and we are all looking for easy ways to put a healthy dinner on the table.
Whole Foods typically has 3-4 choices of spiralized veggies such as squash noodles, zucchini noodles, beets, or butternut squash.
And the price is right for these veggies.  For a 1/2 pound you will pay around $2.50.
For a quick dinner the other night we had baked tilapia, spiralized squash noodles and salad.  All of that took about 25 minutes prep time!
It's all about baby steps so this week try to add some more veggies in at one meal and see how you feel!
Restoring your health one bite at a time,
Jackie