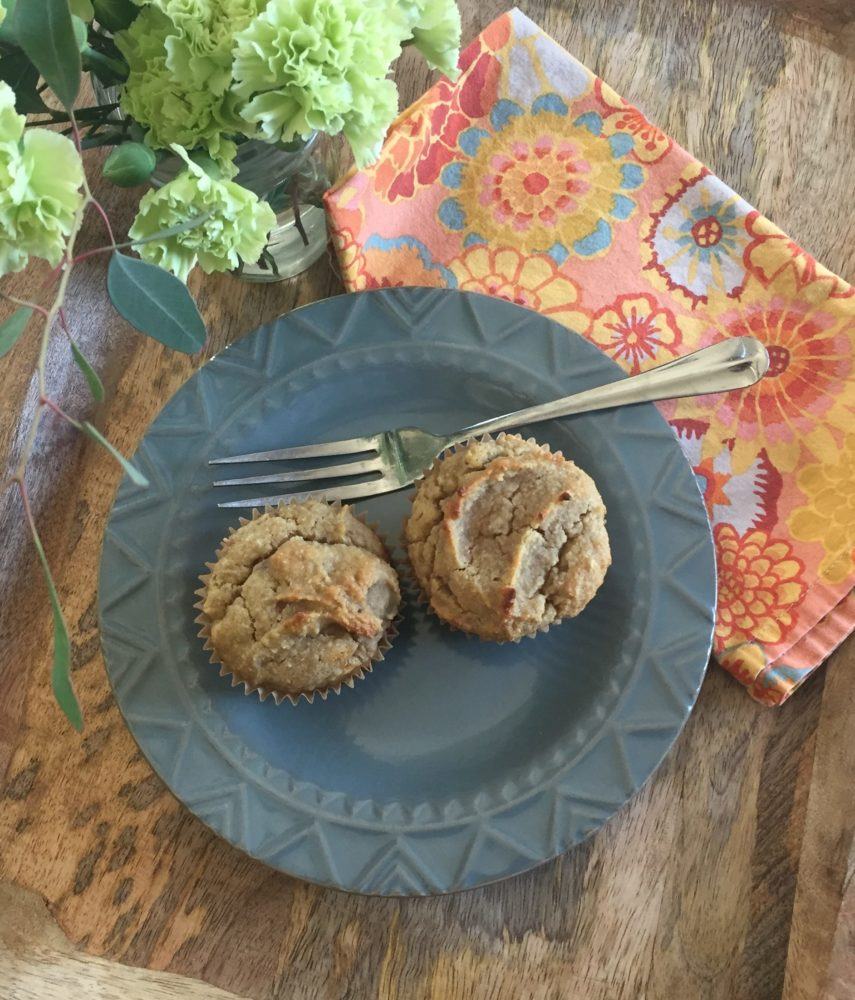 Ingredients
3 cups finely ground blanched almond flour
1/2 tsp baking soda
1/2 tsp cinnamon
1/2 tsp fine sea salt
3 large eggs
1/3 cup warmed honey
1/4 cup unsweetened almond milk
2 very ripe bananas (lots of brown spots)
1/3 cup chopped toasted walnuts (optional)
Instructions
1.

Preheat oven to 350 degrees and line a muffin pan with paper baking cups. I like these baking cups, they are unbleached and chlorine free.

2.

Toast walnuts in a small saute pan or in the oven. Keep a close eye and stir frequently about 5 minutes. When done spread out on a cutting board to cool.

3.

Mix the dry ingredients, almond flour, baking soda, cinnamon, and salt with a whisk.

4.

In a separate bowl, whisk the eggs and then add warmed honey, and almond milk.

5.

Mix the wet ingredients into the dry ingredients.

6.

Mash bananas and fold into batter.

7.

Roughly chop toasted walnuts and fold into batter.

8.

Scoop batter into prepared muffin pan making each about 2/3 full.

9.

Bake for 20-22 minutes or until tester comes out clean.

10.

Remove from oven and let cool in pan for 5 minutes and then cool on a wire rack.

11.

Muffins can sit on the counter for a couple of days and then move to refrigerator.

12.

These are yummy warmed up with a little bit of grass fed butter
Instructions
1.

Preheat oven to 350 degrees and line a muffin pan with paper baking cups. I like these baking cups, they are unbleached and chlorine free.

2.

Toast walnuts in a small saute pan or in the oven. Keep a close eye and stir frequently about 5 minutes. When done spread out on a cutting board to cool.

3.

Mix the dry ingredients, almond flour, baking soda, cinnamon, and salt with a whisk.

4.

In a separate bowl, whisk the eggs and then add warmed honey, and almond milk.

5.

Mix the wet ingredients into the dry ingredients.

6.

Mash bananas and fold into batter.

7.

Roughly chop toasted walnuts and fold into batter.

8.

Scoop batter into prepared muffin pan making each about 2/3 full.

9.

Bake for 20-22 minutes or until tester comes out clean.

10.

Remove from oven and let cool in pan for 5 minutes and then cool on a wire rack.

11.

Muffins can sit on the counter for a couple of days and then move to refrigerator.

12.

These are yummy warmed up with a little bit of grass fed butter
About Chef
Jackie
I am a self taught chef and baker and have studied nutrition for the past 15 years. I received my Health Coach certification from the Institute of Integrative Nutrition. ...
Read more about this chef..
Recipe Index
Recent Recipes
The star of this guacamole is the avocado.  Did you...

Jackie's Tips: This is a sturdy loaf of bread, you...