I have been making salmon like this for a couple of years and though I sometimes will try something different, I always come back to this recipe.  It is super easy and one of our favorites.
Salmon is high in protein, omega 3 fatty acids and Vitamin D, so do yourself a favor and consider salmon for dinner tonight.
The vast majority of  Atlantic salmon that we buy in the U.S. is farm raised. I usually buy this 6 pack at Whole Foods and the cost is $19.99.  We usually have leftovers and you can use that to put on a salad or make salmon burgers.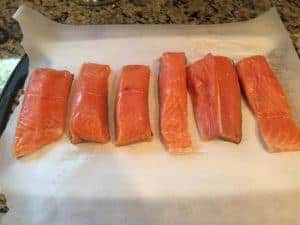 I encourage you to look at the ingredient listing even on salmon.  I have seen salmon at Costco that has red dye #40 in it.  No reason for red dye #40 to be in salmon except that it makes it more red and pleasing to the eye.  I would avoid this even if it seems like a good deal.
My favorite seasonings are Bosari and you can purchase them at Whole Foods or Amazon. The ingredient list is : sea salt, garlic, basil, rosemary, black pepper, orange peel, ginger and nutmeg. They are a really clean seasoning without preservatives.