One of the things I really missed when I started eating grain-free were Bacon, Lettuce, and Tomato Sandwiches.  This time of year when the tomatoes are really coming in season there is nothing like a BLT!  With my easy grain-free bread you don't have to miss out when the rest of your family is indulging.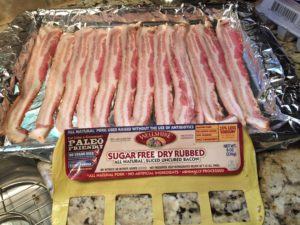 If you haven't ever cooked bacon in the oven before, I'm telling you it is the only way to go!  Soooo much easier and you don't have the huge grease mess when you are done. I tell you how below.

The Wellshire Paleo Bacon and Primal Kitchen Mayo that I use in this sandwich can be bought at Whole Foods and Natural Grocers. The highlighted words will link you to the product so you can see the ingredient listing.